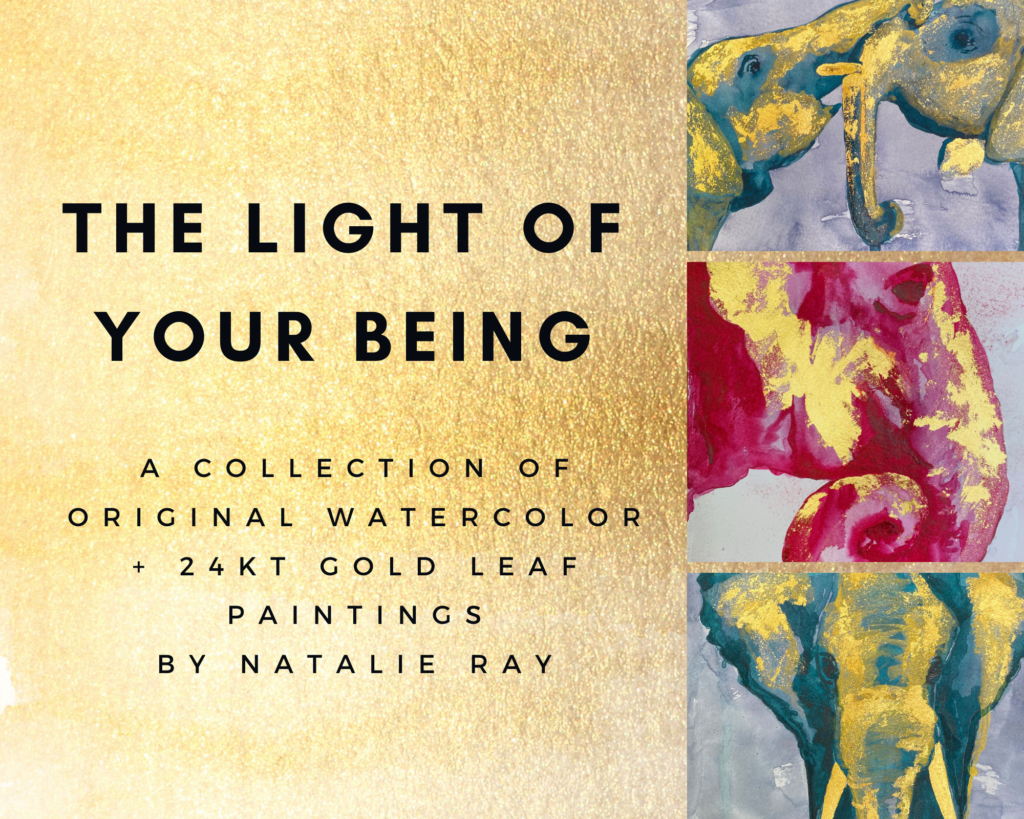 The Light of Your Being Collection
features a series of watercolor and 24kt gold leaf original paintings featuring the strength, loyalty, and perseverance of one of the most powerful animals on earth: Elephants.
This collection is especially timely, as I created the entire series during North Carolina's Stay Home, Stay Safe order.  For me, the darkest weeks of quarantine were the first 4 weeks, due to my father being diagnosed with pneumonia and sepsis practically overnight, and almost immediately put into a medically induced coma for weeks.  Because he was hospitalized in California, it was impossible for me, being 10 weeks pregnant at the time, to make the journey out there.  I felt alone, yes, but the realization that my father could pass away without his wife, sisters, and five kids by his side was almost too much for any of us to bear.  I felt the weight of this pandemic, and felt the weight of every family who was going through the same thing as my family, or worse, had already lost their loved one.  Then, after my father was finally back home, although still recovering after his nightmare experience, I read this poem by Hafez, and was immediately inspired to get back to work with a reborn sense of creativity:
I wish I could show you, when you are alone or in darkness, the astonishing light of your being.
This poem lit a fire for me because it captures the world's collective pain in such a simple, relatable way.  Never has the world's individuals been so alone, and on the other end, we are struggling to convey to those we know are suffering more than us, that even though they are alone, they are worth so much and need to survive.  Each of us has that 'astonishing light' within us, and despite the current situation, we must fight to remain connected.
The series features a total of 10 portraits of elephants in watercolor and 24kt gold leaf.  I chose elephants for my subjects, as their strength and power does not hinder their gentleness and devotion to connectedness.
Due to the current COVID-19 situation in North Carolina, there will not be a public opening for The Light of Your Being, however the works can be viewed by appointment at Atlas Beauty by emailing hello@natalieonpaper.com or visiting natalieonpaper.com.
The artist reception will take place on Saturday, September 12thfrom 4:30-6:30pm at Atlas Beauty at 915 Haywood Rd #103, Asheville, NC 28806.  I hope to see you there!