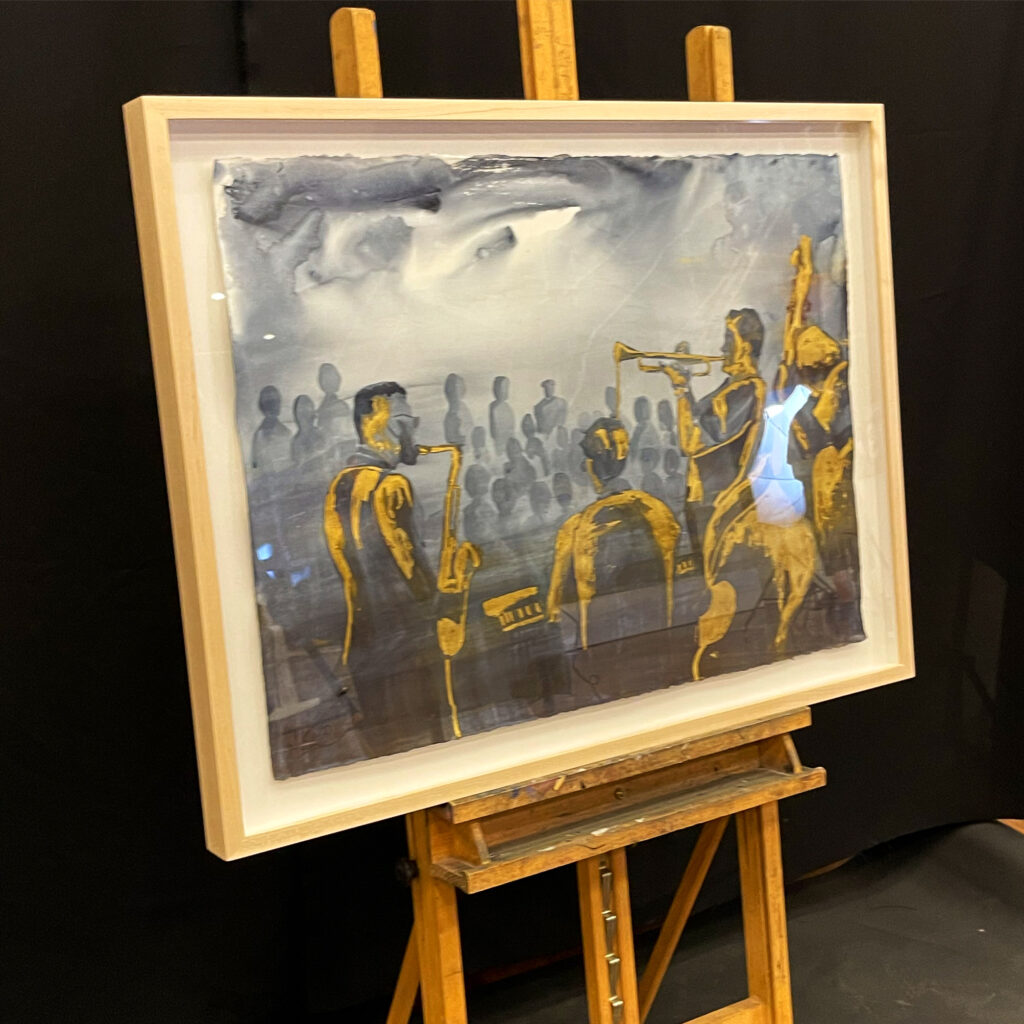 ASHEVILLE, NC (November 1st, 2022) – Just back from a 6-month stint at the Cameron Art Museum, watercolor artist Natalie Ray's "Live Jazz in Asheville" painting is the focal point of her latest "On the Road" exhibition. This collection features local jazz musicians performing throughout Asheville's thriving music scene.
"Live Jazz in Asheville" features UNCA's professorial band, "The Core" playing at favorite Montford haunt, Little Jumbo, while other paintings include up close and personal views of other local musicians in action.
This watercolor and 24 karat gold leaf collection of paintings will be on display through January 31st, 2023 at Asheville Gallery of Art (82 Patton Avenue #2803) in downtown Asheville. We invite the public to view this exhilirating exhibition seven days a week from 11am-6pm.
From the artist:I have lived my life with a generous amount of spontaneity, and I keep that rhythm at the forefront of my work. I am most inspired by my immediate surroundings: the eclectic musical community in Asheville, and the backdrop of the beautiful Blue Ridge Mountains that surrounds it.
In this collection, I use the contrasting duo of indigo watercolor and 24 karat gold loose leaf to feature the improvisation within the human form, and the way the music comes from deep within the soul of the musician.
About the artist: Natalie Ray is a watercolor artist who recently received First Place in the Artist category in the "Best of WNC" Awards 2022 presented by the Mountain Xpress. Natalie lives and works in Asheville with her Grammy Award winning jazz musician husband, Justin Ray, their three young children, and golden retriever, Ollie.
Multiple high resolution photos available upon request.